China arming ULFA? Is NE China's new anti-India frontier?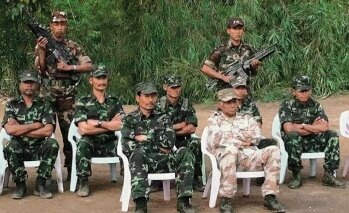 Reports have been trickling in from various sources that the leader of the anti-talks faction of the United Liberation Front of Asom (Ulfa) Paresh Barua is now firmly entrenched in the Chinese border town of Ruili. So is China opening another front, after it started meddling with India's long standing claims in Kashmir and particularly Pakistan Occupied Kashmir?
[In Pic: Paresh Barua at an ULFA training camp near China-Myanmar border]
The anti-talk faction under Barua remains adamant on sovereignty to Assam even while the other faction headed by Ulfa chairman Arabinda Rajkhowa has initiated talks with the government with safeguards for the indigenous Assamese as one of the core agendas. Paresh Baruah faction has not heeded to requests from their own talk faction. And if the intelligence sources are to be believed Paresh Baruah faction of ULFA is recouping with proxy support from China.
"For the last one month, Barua has been sitting in Ruili in China's Yunnan province, although his cadres and other northeastern insurgency groups have moved to new locations by moving another 10 km deeper into the jungles from the earlier bastion of Taga. The camps were shifted on the directions of the Myanmarese authorities who had made a show of launching anti-insurgency operation in a bid to pacify India which had been demanding action", reported Hindustan Times through an intelligence official.
Barua is reported to be in the Chinese border town famous for its jade trade and his 250 heavily-armed fighters, have moved to the new location about 10 km south-west of Taga. Located in a Kachin-dominated area of Myanmar, Taga is about 70 km away from the Indo-Myanmar border. It is also home to insurgents from the National Socialist Council of Nagalim (NSCN), United National Liberation Front (a Manipuri outfit) and others.
Intelligence sources believe the Paresh Barua faction to have reorganised with hundreds of new recruitments from the Upper Assam districts of Tinsukia, Dibrugarh and Sivasgar during November 2010 to June 2011. The recruits are said to be getting arms and operational training in the Myanmar-China border and in the jungles of Arunachal Pradesh.
Asian Age reported that in a six page internal note, the ministry has said that Ulfa is operating under three different groups in Tinsukia district, which is located in the upper part of Assam and surrounded by Arunachal Pradesh in the southeast.
The note says that sophisticated weapons like T-81, Chinese bottle grenade, radio-cont-rolled improvised expl-osive devices (RCIEDs) and rocket-propelled grenades are exchanging hands, much to India's and the peace faction of ULFA's dismay.
An RPG-2 and RPG-7 have also been smuggled inside Assam. Reports with the MHA suggest 300 such weapons have been procured by the Ulfa.
Paresh Baruah has also established intimate contacts with China's People's Liberation Army (PLA) and the primary objective now appears to be to forge connection with the Chinese on the one hand and to promote Maoists in Assam on the other hand.
While the peace in Assam in recent months may not signal an upsurge of ULFA, the ground reality certainly remains vulnerable. On Friday, Assam police arrested Ulfa hardliner corporal Pankaj Gogoi from Lachit Nagar area in Assam. He was involved in the killing of a surrendered Ulfa (Sulfa) member and businessman Tileswar Lahon on October 29 at Kushal Nagar, in Dibrugarh district of upper Assam.
In ULFA's 32 sovereignty war over last three decade more than 12,000 people have lost their lives in Assam.
Comment