Chinese colonialism in Tibet is its real problem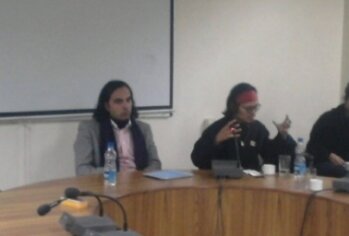 Delivering a talk on "Self immolation in Tibet and its impact on India, China and Tibet, at the Jawaharlal Nehru University, New Delhi on Friday, Dr. Dibyesh Anand, Associate Professor of International Relations at the Westminster University, London said that it's China's practice of colonialism that is the greatest threat to its credibility and ultimately its continuity in Tibet.
Discussing a host of issues regarding Tibet and Tibetans Dr. Anand said that the Dalai Lama's harping about Guru-Chela relations between Indian and Tibeta is more because of his sense of insecurity about the future of Tibetans; the insecurity that Tibetans feel despite being Indian in all practical sense is also the reason why the struggle for Tibet would continue.
Saying that there is great lack of awareness about Tibet and Tibetans in India, Dr. Anand said that most of the Indians need to cover a long distance to understand the cause of Tibet. The contribution that Tibetans and the Lamas have made in revivalism of Buddhism in India and Buddhist sites like Bodhgaya is something that they should be given credit for.
Dr. Anand said that Tibetan resistance against the Chinese occupation has taken various forms including the occasionally spectacular ones like the massive protests across the Tibetan plateau in 2008 or the recent spate of self-immolations. However, self-immolation should be seen in terms of continuity of the politics of resistance and not as a radical break from the past. The state control of media leaves very less scope for many Tibetans inside and outside Tibet to know about what is happening inside Tibet. Self-immolation has caused the Tibetans to realise the crisis in their everyday life. China's hardline policies and a total securitisation of every aspect of life has only added to the desperateness. The attack on Dalai Lama, a sacred figure to the Tibetans and a symbol of the Tibetan nation, is seen by Tibetans as contempt for the Tibetan way of life and disrespect to the dignity of Tibetan people. The repeated incidents of self immolation in protests, despite China's repeated claims that Tibetans are happy members of the great Chinese motherland, proves the other way round.
China is actually practicing colonialism in Tibet and is hence facing a crisis of credibility. Its approach of blaming the Dalai Lama for all the problems in Tibet contradicts its own denial of there being any 'Tibet issue'.
On the increasing prosperity in Tibet and Tibetans increasingly joining the current system in China, Dr. Anand said that such Tibetans are not betraying their people or culture even as they challenge China. They are seeking a genuine harmony between Tibetans and other ethnic group based on dignity. He however said that self-immolation is neither inevitable nor desirable since the Chinese government severely censors all such information. It also fuels racist chauvinism among the Hans.
China can bring about a revolutionary change in Tibetans' attitude toward Beijing if it starts negotiating sincerely with the Dalai Lama. China cannot continue to practice colonialism in Tibet and expect favourable returns. For India, it is important to give more weight to the Tibet issues. It would be critical not only for Tibetans but also in dealing with the Chinese.
Comment