Bad road & land slide makes Nathula-Tsomgo route inaccessible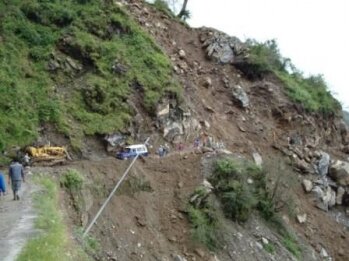 Due to bad road condition and the frequent occurrence of slides along the JN road the Nathula visiting tourist or the traders are unable to visit Nathula, Tsomgo  since three days along with barring of border trades. The tour trip or the conduction of trade along JN road is becoming very risky as the road may close any time due to land slide. Where as the local people are going to Nathula and Tsomgo lake like wise the Nathula border traders are also continuing their trade is learnt but the visiting tourist are currently barred from visiting Nathula or Tsomgo lake.
Informing over the phone Sherethang Police Inspector Mr. Tsholey Tshering Bhutia informed that due to continuous rail fall the JN road is becoming risky and due to which the visiting people may any time face unavoidable circumstances.
Adding more PI Mr. Bhutia said that GREF have been carrying out their works sincerely and continuously but the heavy downpour of rain with out any break the GREF are also facing problems in construction, extension or double lane of the JN road.
On the other hand though the border trade is being carried out continuously but the bad road condition and on top of that the heavy rainfall the border traders are also facing problems as the traders are unable to reach the destination in time due to which the traders have to return back without doing business. Whereas some traders who do not want to take any risk have not carried out the trade along Nathula in this season at all.
PI Mr. Bhutia further informed that around 70 vehicle goes to Nathula during winter season everyday  but soon after the beginning of the monsoon season the tourist inflow decreases along with the blockage of roads.
Adding more PI Mr. Bhutia informed that considering the bad road condition every year vehicle accident along Nathula, Tsomgo route takes place and keeping in mind the hindrances, slides the police at the check post have even appealed the travel agents not to send any tourist during this situation as well.
Courtesy: Sikkim Mail
Comment