Shilong's fusion music for Obama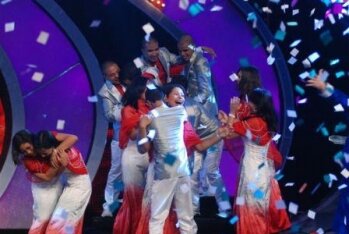 Barack and Michelle Obama will get a taste of fusion music mix with jazz, gospel, folk and Bollywood music. The Shillong Chamber Choir who have won a reality show on television recently and mesmerized the audience all over the world will now rock Rashtrapati Bhawan on Monday. The choir will now enchant the very special guest from US.
(In the pic: Shillong Coir Group at the IGT Grand Finale. Photo Credit: Shillong Chamber Choir)

"We are pretty excited", said Donna Marthong, one of the oldest members of the choir who is also the Hindi guide of the group. "Just two of us can speak and understand Hindi but most of us really like Bollywood songs," she added even as her choir members reminded her how she knows several Hindi film stories by heart. To enthrall the audiences they have prepared the repertoire of five songs.
The choir is like a cute family of 16. And music is like a prayer for them. Neil Nongkynrih, pianist and conductor of the choir says that the journey which actually started in 2001 has been simply miraculous. "Our first five years were really difficult. All singers wanted to go their own way and the choir gradually dissolved. Then these new people came together in 2006 and there was no looking back", remembers Neil, the founder of the group.
"I had never intended to form the choir again but it just happened. I can't explain how, but today our choir members are even more passionate about their music than me," he added.
Neil asserted that though they started out just like any other choir group, the Shillong Chamber Choir is not just about singing anymore. "It's become a concept."
Flow and shift from western classical to Bollywood and from rock to folk without an effort in their performance has become the USP of this choir. Neil assures that they are capable of everything. They have performed on popular music for masses in Shillong and even tuned to strictly classical concert at Koncert Haus in Vienna.
Though a few of them still study, many have even left their jobs to continue with the choir. "For me the experience with the choir has been quite healing", Donna said, looking at `uncle' Neil who smiled in agreement. Damon Melam Lyndeh, member and spokesperson of the choir added, "Six of my brothers and sisters are also a part of this choir."
Neil says they were invited to perform before President Obama in September even before they had won the reality show. "It was unbelievable. It was more shocking when we came to know that we were the only singing group invited,"
The Shillong Chamber Choir was formed in the year 2001 by a group of singers who wished to come together to produce a variety of music, rather than being limited to only one kind. The Shillong Chamber Choir preferred versatility and variety and thus the group of 25 soloists made their first debut performance at Pine Wood Hotel on the 14th and 15th January 2001, with Neil Nongkynrih as their maestro and mentor.
Their repertoire now includes pieces from Handel, Bach, Gershwin, Mozart, Neil Nongkynrih's compositions, Khasi folk songs and contemporary music.
Some of the members of the Shillong Chamber Choir have won hearts in Switzerland, London, Geneva, Poland and also that of the President and Prime Minister of India.
The choir's performances have also included concerts at The Rashtrapati Bhavan and a special television programme recorded at the NDTV studios in New Delhi and relayed by the same. The choir also went on a tour of Sri Lanka sponsored by the Indian Council of Cultural Relations.
The choir performed with the world renowned Vienna Chamber Orchestra in Shillong on the 11th of March '09 and in Kolkatta on the 13th of March '09. These concerts created musical history for the town of Shillong. It was the first time that a full member western classical orchestra collaborated with Shillong Artists in Shillong.
This well selected and trained group of now 20 singers will perform at upcoming concerts in India, Europe, Sri Lanka, the USA and China.
Comment