Belgium's Rider joins United Sikkim Football Club as a coach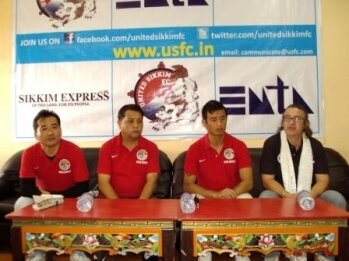 Rebyna Rana
Gangtok: December 3, 2011
Belgium's Philippe De Rider aged-47 joined the United Sikkim Football Club (USFC) as a coach. The goal of the club is to increase the standard of football in Sikkim, and its first two years of existence; United Sikkim participated in
amateur leagues in Northeast India.
The club, whose CEO is Bhaichung Bhutia, is the only team to make it to the second round of the I-League from Sikkim and is all set to upgrade the standard of the club standard. The co-owners of the club are Fidelis World and Shanker Mahadevan.'I have been touring all over the world and helping the football academy as a coach which I have experience in the field of football' said the newly appointed coach, Philippe De Rider today in the press meet.
The first step to India was that in Bengal on 2006 as a coach of Bengal football team. He mentioned that he was touched by the emotions of the Indians, especially by the USFC as a result of which he joined the club and promised to take the club at the global level. Rider said that he believes that the USFC would pursue the goal in I-League as the renowned player like Bhaichung Bhutia is in the team and is accompanied by many promising player from different parts of the world. By tomorrow he will be joining the training session and said that though the club is small but it can go to the peak and reach to its destiny very soon. The coach is first time in Sikkim and was stunned by the beauty of the place.
Likewise, CEO of Club, Bhaichung Bhutia said that the members of USFC are very delighted for having the new coach in the club and believe this will end in a fruitful note. Bhutia further said that for a good player a good ground is necessary and its best to play in an artificial turf but grounds in India are very pathetic and poor. Mentioning about the football academy in Sikkim, Bhutia said that the project of football academy in Sikkim is in pipeline and is waiting for the government initiatives.
Bhutia also mentioned that football academy in Siliguri will start soon after the confirmation from the Bengal government.The meet was also addressed by Senior Manager Arjun Rai and Media Manger Pema L Shangderpa.
Sikkim Mail
Comment