5 day long Sikkim Spring Carnival 2012 concludes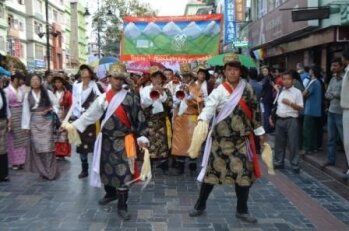 Gangtok, May 16, 2012:
The State bid adieu to the 5 day long Sikkim Spring Carnival which attracted unprecedented crowd both from the nation and abroad at various venues. It seemed like the people could not get enough of the vibrantly lit MG Marg, local delicacies, amusingly attractive flowers at the flower stalls, divinely beautiful religious (Buddhist) sculpture exhibition, evening extravaganzas at MG Marg, traditional archery, adventure activities such as paragliding, traversing, river rafting, rock craft, trekking, Yak safari, rock climbing, angling, helicopter joy ride etc. The nature, culture and adventure theme of the Carnival has proved to be a huge success in alluring both the locals and the tourists.
5th and the final day of the said Carnival today witnessed its valedictory function presided over by the Tourism Minister, Bhim Dhungel as the Chief Guest along with the Tourism and Civil Aviation Department Secretary, R Telang and Cultural Affairs & Heritage Department Commissioner cum Secretary, Nalini G Pradhan as the Special Guests.

Sikkim Spring Carnival2
The Chief Guest during his brief address mentioned that the Carnival organized under the patronage of Chief Minister Pawan Chamling, has been a great success. Adding that the rich bio diversity of the State is one of its biggest strength, the Minister asserted that it has to be preserved and taken care of by all. It is high time that the people of the State should realize its value and should involve themselves in preserving the same. Also mentioning about the development in the State's tourism sector, he notified the gathering about the recent tourism awards conferred to the State at New Delhi. Saying that the Carnival has also proved to be a great opportunity for the tourism stake holders he said that such programmes of the Department give ample job opportunities. He also welcomed all those who choose to undertake tourism as their profession. Lastly, the Minister also congratulated and thanked all the concerned Departments, tourism stake holders and all the participants in putting up of a successful Carnival.
The concluding day witnessed both dance and musical programmes showcased by the artists from the State, Darjeeling and Odisha. Current title holder of Miss Sikkim, Zennyla Bhutia who recently made the State proud by winning the prestigious Sunsilk Mega Miss Northeast 2012 title held at Dimapur, Nagaland was also felicitated during the programme. Participation Certificates and mementoes were distributed to the participants by the Chief Guest. The Chief Guest also distributed certificates of participation and mementoes to the participants.
During day time Archery game between 9 teams took place. The traditional food stalls at Palace road had tourists crowding up to have the taste of local food.The religious (Buddhist) Art Exhibition had a number of photographers capturing the beauty of unique art objects.

Sikkim Spring Carnival3
The five days Carnival, had a lots of adventure,exhibitions ,cultural shows,Rose walk,Nature Walk and a host of other interesting things to experience.
Sikkim Mail
Comment