Big Bazaar opens its first store in Gangtok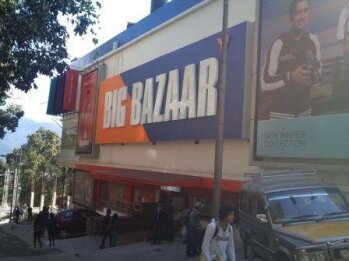 Gangtok: Jan. 11, 2011
Big Bazaar, India's largest hypermarket chain, a part of the Future Group, launched their first store in Gangtok. The new Big Bazaar, a two-level 22,000 sq.ft. store introduces the people of Gangtok to a unique, modern and convenient shopping experience for the entire family. With the opening of this store, the total count of Big Bazaar stores reached 146 nationally.
Situated at Namnang Commercial Complex, Namnang Road, the store caters to a huge array of products from food, apparels, mobile phones, home crockery, utensils, plastics, personal care, home care and much more.
"After having opened several stores in the north-east including Guwahati and Siliguri we are now venturing into Sikkim with our first store in Gangtok. This store will give customers an opportunity to shop for all their requirements right from food, essential items, apparels and others while offering the benefit of saving and enjoying the experience with their entire family. We are confident that the Big Bazaar of Gangtok will cater to all household necessities of the consumer", says Manish Aggarwal, General Manager, Sales and Merchandising (East) Big Bazaar.
Mr. Agrawal said that rules and regulation of the state would be strictly followed and maintained. He appreciated the hygiene, cleanliness, greenery and said that Sikkim is an ideal state to be in. Eighty percent of the employment has been given to locals and minimum wages act has been implemented as per the state instruction.
With regards to initiatives of organic products Big Bazaar will be buying the products locally and selling them. They are trying to buy locally available products like vegetables and fruits and sell. It was also informed that if the supply of the organic products are provided they would definitely encourage and even open outlets in other stores across the country. Apart from business the group focuses on local development as well.
Mr. Agarwal informed that there was some delay in opening of the store since they had very little experience of the hills and unavailability of suitable property. Big Bazaar will remain open for seven days a week. The company is planning to approach the Government regarding parking space as they are hoping to expand.
Regional Manager (East) Raj Banerjee along with Store Manager (Gangtok) Anil Yadav was present on the occasion. Big Bazaar will be operational form today, Jan. 12. 21st to 25th of January will be saabse saasta (very cheap) days, with discount on most of the products.
Comment