USGS upgrades Sikkim Earthquake to 6.9; Two minor aftershocks today
National Earthquake Information Center of U.S. Geological Survey (USGS) has upgraded the largest Sikkim quake from 6.8 magnitude to a 6.9, and the other two at magnitudes 4.8 and 4.6. All three occurred within an hour and 15 minutes, the U.S. agency said. The India Meteorological Department (IMD) has held on that the largest earthquake was 6.8 magnitude, 5.7 magnitude and 5.3 magnitude.
In terms of energy, each whole number increase in the intensity of earthquake corresponds to an increase of about 31.6 times the amount of energy released. Therefore, a 7.0 earthquake on the Richter scale releases 31.623 times more energy than a 6.0 and a 8.0 on the Richter scale releases 1000 times more energy than a 7.0. A 0.1 increase in earthquake on Richter scale suggests nearly three times more powerful earthquake. Hence the difference between 6.8 and 6.9 is significant. A 6.0–6.9 Strong earthquake is destructive in areas up to about 160 kilometres (100 mi) across in populated areas.
The US agency said that the region has experienced relatively moderate seismicity in the past, with 18 earthquakes of Magnitude 5 (M 5) or greater over the past 35 years within 100 km of the epicenter of the September 18 event. The largest of these was a M 6.1 earthquake in November of 1980, 75 km to the southeast.
USGS said that the depth of the earthquake was 19.7 km (12.2 miles) with an uncertainly of horizontal +/- 13.5 km (8.4 miles); vertical+/- 3.5 km (2.2 miles).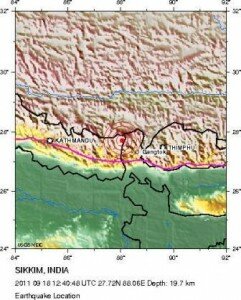 Sikkim Earthquake USGS
The IMD has said that a slight magnitude earthquake (M:3.9) also occurred at 06 hours 22 minutes IST on 19th September, 2011 in the Latur district of Maharashtra. Though the event is located about 1500 kms away from the epicenter of the earthquake in Sikkim-Nepal border region of 18th September, 2011 and hence felt not directly related to it.
The most recent powerful earthquake in the area was the Sikkim earthquake of 14.02.2006 (M: 5.7) and Bhutan earthquake of 21.09.2009 (M:6.2). The IMD has also said that the entire area of Sikkim lies in Zone IV, which is considered fairly dangerous.
Comment