Gorkhas Celebrate Tihar Silver Jubilee
Archana Rai, Dibrugarh University
Nov. 21, 2010 Margherita (Tinisukia): The Silver Jubilee Celebrations of Tihar Utsav organised jointly by the influential All Assam Gorkha Students' Union (AAGSU), Assam Gorkha Sanmelan (AGS) Tinsukia Dist. Committee and Gorkha Kalyan Samitee, Margherita came to an end last Sunday. The three day long festival showcased the rich Gorkha culture and traditions of Assam. On Friday the program started with hoisting of flag of reception committee by its President Bhawani Bhattarai followed by homage to martyrs by Mr. D B Rai, Chief Advisor of Gorkha Kalyan Samitee, Margherita. The 'Main Entrance' was inaugurated by Loknath Pradhan, a prominent social activist of Margheritha. At 11am the cultural competition was flagged off by Dr. Kripa Prasad Upadhyay, Principal, Lidu College. Screening for Vaili, Sangini, Maruni, Folk Song and Dance, Modern Song and Dance, Deusi, Madal Taal and Teej Geet competitions were held throughout the day. In the evening, founder President Lal Bahadur Chetri and founder General Secy. Pradeep Limboo lighted the ceremonial lamp and declared the cultural program for 3 nights open. In his address the duo recalled the celebration day in 1986 at Makumkilla and thanked all their subordinates and people of the region for the wholesome support and efforts to continue to host the event till the 25th edition. Local talents enthralled the crowd that night.
Second day program started with tree plantation that was started off by Rubul Phukan, President of Goan Panchayat and a social activist. As many as two hundred and fifty saplings were planted across Makumkilla and Margherita area to mark the two and half decade old grand celebrations of Gorkha brotherhood and unity in region and the state. The completion of the last evening continued till 2pm. Post lunch a symposium on Gorkha's cultural festival Tihar titled 'Hamro Tihar' was held. Speakers like Hari Gajurel, Loknath Newar, Pradeep Limbu, Lal Bahadur Chetri, Dhan Bahadur Sunar and K B Rana, Sr. Laureate of Digboi participated. The symposium called on for preservation and global commercialisation of traditional culture of Gorkhas from Assam.

Deusi Dance at Silver Jublee Tihar Utsav at Margherita
(In the pic: Gorkha youths from Tinsukia performing the traditional 'Deusi' at the Silver Jublee Cultural night)
The speakers in the symposium hailed and applaued the sincere efforts of Mr. Pradeep Liboo and Lal Bahadur Chetri who brought the Tihar celebrations to the stage. They called them "RG Baruah of Gorkhas". RG Baruah from the Assamese community was pioneer who brought the traditional Rangali Bihu to the stage. Various other cultural competitions was held thereafter. In the evening the much awaited 'Tihar Sundari' had to be called off due to incessant rain and thunderstorm however the 'Deusi' competitions was held, where 22 teams from various parts of Tinsukia participated. The winners were given a cash award of Rs. 25000/- trophy and citations same awards cash and kind were given to the Vailini and other competitions. The cultural night was enthralled by melody princess of Gorkhas of Assam 'kalo dhuwa udawdei' famed singer Milan Newar followed by Kumar Darjee of Darjeeling. The penultimate day program was called off at 3 am in the morning.
The following day a mass cultural procession with all Gorkha traditional dress other items like khukhuri, doko, naumati baja etc. was taken out from Makumkilla to Margherta town where as many as 5000 people from all walks of life participated to showcase the rich culture of Gorkhas. Members of AAGSU volunteered in the rally while it received response from all other communities Assam. Various communities and tribes of Assam joined the mass cultural rally strengthening the unity and brotherhood bonded relationship with the Gorkha community. As many as 26 community and tribal organisations deputed their cultural unit in the mass procession to mark the silver jubilee of a grand most celebration of Gorkha culture in Assam.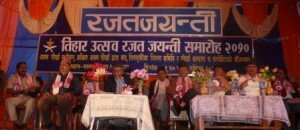 OPEN SESSION
(OPEN SESSION)
By far this Tihar Utsav on stage is the oldest known Tihar celebrations in India on records. Post lunch the open session was presided by Sal Bahadur Loh and welcome address was given by Sunil Gurung, Chief Secy. Gen of the Tihar Utsav Reception Committee. Mr. Gurung attended the program as the Chief Guest as Chief Minister of Assam Tarun Gogoi could attend following incessant rain over night. Community and tribal leaders of various communities attended as invited guests spoke their heart out in the open session about Tihar and the brave Gorkha community. Assam Gorkha Sammelan Vice President Deowan Gurung, All Assam Gorkha Students' Union (AAGSU)'s Information and Publicity Secretary Nanda Kirati Dewan, BGP Assam State Committee Gen Secy. Kishor Upadhyay and Executive President Krishna Bhujel, Saparivar –Nepali language monthly editor Rohit Goutam, Gorkha Autonomous Council Demand Committee(GACDC)'s Vice President Ajay Subba and several other prominent Gorkha faces of Assam attented as 'Distinguished Guest'. Mr. Hari Gajurel a Nepali language laureate from Tezpur an alumnus of Tribhuban University (TU), Nepal was the key note speaker who spoke at length about the cultural festival of the Gorkhas. The last cultural night was enthralled by singers from Darjeeling Hills and Sikkim besides the local talents.
Related Story:SILVER JUBILEE TIHAR UTSAV CELEBRATIONS
Comment