Preeti Thapa crowned Miss Eclectic 2010
By Archana Rai
Miss. Preeti Thapa, a Gorkha girl has been crowned 3rd 'Miss Eclectic Model 2010' in a glittering function held at Pragjyoti ITA Centre for Performing arts, Machkhowa, Guwahati on Nov 27, 2010 organised by Electic Group's magazine The Electic Times. Rituparna Lahkar and Rajkanya Baruah were the first and the second runners up respectively. Two of the winners Preeti and Rituparna has qualified for direct entry to the Femina Miss India East.
(In the pic: Winner Preeti Thapa (Centre) flanked by 1st runner up Rituparna Lahkar (Left) and Rajkanya Baruah (Right) at the finale of the Pond's White Beauty Eclectic Model Hunt 2010 at ITA Machkhowa in Guwahati, Assam on Saturday night)
There were lots of other prizes in store for the winners apart from cash awards. The Pond's White Beauty Eclectic Model Hunt 2010 also awarded a few other subtitles to the following seven contestants – Rajkanya Baruah as Miss Talented and Miss Catwalk, Smriti Mahanta as Miss Photogenic, Preeti Thapa as Miss Congeniality, Rituparna Lahkar as Miss Communicator, Eugenia Am Shullai as Miss Best Skin and Chandrashruti Bhattacharya as Miss Personality.

Preeti Thapa in action on the ramp
(Preeti Thapa in action on the ramp)
For the first time ever in Northeast, a beauty pageant of this stature was aired live on television! Thanks to television partner Rang. The grand finale of the Pond's White beauty Eclectic Model Hunt 2010 was viewed by people from all over, apart from those lucky ones present there at the Pragjyoti ITA Centre for Performing arts, Machkhowa, Guwahati on Nov 27, 2010.
The evening geared up with the lighting of the ceremonial lamp by chief guest, the Governor of Meghalaya, His Excellency, Sri Ranjit Shekhar Mooshahary (retired IPS) and the Guest of Honour, Kumar Sanjay Krishna, IAS, Principal Secretary, Planning and Development, Govt Of Assam. With eminent names in the panel of judges like supermodel cum actress, Dipannita Sharma Atwal, renowned model from Sikkim, Paljor Gyabak, designer Julie Kagti, bureaucrat and writer Dhruba Hazarika and national award winning actress Moloya Goswami, there were four rounds of fashion shows in all where the beautiful girls displayed their beauty, poise and intelligence. The fashion rounds displayed Saris by Bangalore based designer Julie Kagti, casual dresses by Dhiraj Deka from Bibhusha, fusion wear by Gallery 2000 designed by Payal Chadha and gowns by the students of JD Institute of Fashion Technology, Guwahati.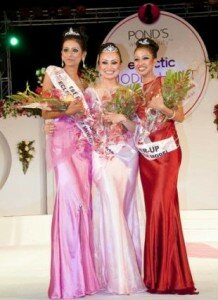 Preeti Thapa and the runners up
To add a different flavour to the event, there were stunning performances like the Prayer Dance (Shiva Stuti) choreographed by noted Bharatnatyam and Sattriya dancer Indira P.P. Bora, to begin the show with; a dance drama by the Royal Dance Group, hoola-hoop dancer Prachi Garud and last but not the least, Rudy Wallang and Tipriti from the famous blues band, Soulmate! The show ended with the announcement of the winners. The title sponsor for the Eclectic Model Hunt 2010 was Pond's White Beauty, the associates sponsor was Manikchand and sons Jewellers with Bhoruka Aluminium Ltd. coming in as a supporting sponsor. Along with Radio Partner Big FM 92.7, the other partners for the event were Outreach, VLCC, Bhabani Digitals, Dish TV, Caps, Hotel Kiranshree Portico, Sanzz Mobile and Tattva creations.
Comment