700 Competitors took part in Angling Competition in Manipur
October 28, 2011
| Category: Festivals
Slider Post
| 131 views |
0 Comments
Kakching (Manipur): October 28
First Angling Competition on the eve of Ningol Chakouba was held at Kakching Lake at foothill of Kakching Mamang Ching. Cash Award was distributed to the Competition Winners by the MLA of Kakching and Wangjing-Tentha, Y. Surchandra and M. Hemanta.
700 competitors participated the angling competition from all over the state and over 10000 people from Kakching and surrounding villages witnessed the event. The Angling competition is first of its kind in the history of Manipur.
Angling Mela was organised on the eve of Ningol Chakouba to promote peace, harmony and brotherhood among various sections of societies in the state of Manipur.
Cash award of Rs 3000, Rs 2000 and Rs 1000 were given to the winner, the runner-up and the third position holder respectively. Consolidation awards of Rs 500 were given to 10 competitors including the competitors who caught first fish, single largest and the smallest fish as well.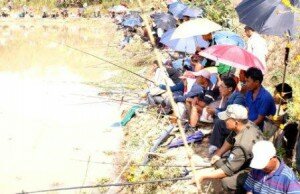 angling2
Ningol Chaokba is special festival in Manipur among Meitei communities which is held every year on 2nd day of Hiyangei, where parents and brothers invite their daughters and siblings for special meal for a family reunion. Male siblings offer the best meal possible and female siblings wear the best dresses and bring gifts and sweets.
Press Release
Comment